Whole-House Water Filters
Your home is your safe haven. Your refuge. So why would you threaten the safety of your home and its occupants by not filtering out contaminants or addressing water problems such as chlorine smells, rust stains, or hard water spots?
Think of all the ways you use water throughout your day: showering, brushing your teeth, washing your hands, drinking, cooking, doing laundry. But where does that water come from? A city system? A spring? A well? Better yet, where does it travel? What does it pick up? What are you exposing yourself and your family to?
While your water is generally disinfected and fortified before reaching your home, an external filtration system is not always enough to guarantee clean water. Along your water's intricate journey through a network of pipes, it picks up contaminants like bacteria, chlorine, heavy metals like lead and mercury, pesticides, waste particles, fluorine compounds, and more. And then it comes out your faucet or tap.
So how do you combat contaminated water? By installing a Whole-House Water Filter to remove harmful contaminants, improve its taste and smell, and soften it.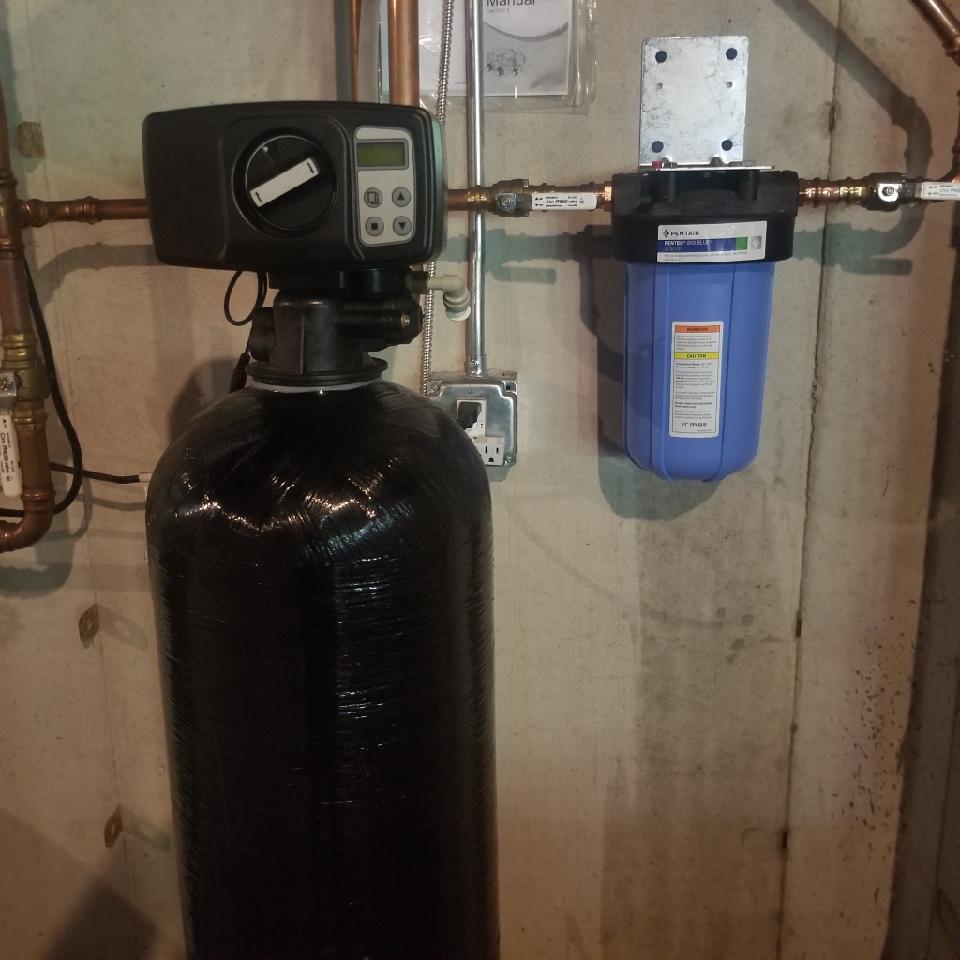 Do I Need A Whole-House Water Filter?
When you hear the phrase "whole-house" you might think of words like "bulky" or "expensive" or "a hassle to install and maintain." At American Clear Water, we strive to ensure your water is safe and treated correctly at a price that won't break the bank. A Whole-House Water Filter is actually incredible efficient and cost-effective at addressing water problems, and takes up less space than your hot water heater. As for the maintenance, you simply need to change the filter once a year. The unit is connected to the main water line leading into your home, thus removing contaminants and providing clean, healthy water through every tap and faucet. And it's all done in less than a day.
The Benefits Of A Whole-House Water Filter
The number one reason American Clear Water recommends a Whole-House Water Filter is peace of mind.
And yet, there are a host of additional benefits to make any homeowner happy:
Purifies and cleanses water for increased safety and overall wellbeing.
Removes impurities such as chlorine, lead, bacteria, heavy metals, and chemicals while retaining healthy mineral deposits.
Improves taste and smell for a better drinking experience.
Softens water for better skin and hair health. (Hard water can leave skin dry and itchy.)
Increases energy savings.
Protects and extends the life of plumbing and appliances.
Saves you money by reducing the need to purchase bottled water.
The American Clear water Process
We would never market a product we don't use ourselves or trust to properly filter your water. Once you've decided to pursue a Whole-House Water Filter, fill out the form below and American Clear Water owner (and H2O guru) Greg Naples will schedule a consultation to visit you on site to test your water and provide you with more information on the ideal water filter for your needs, lifestyle, and budget. It's that easy!
American Clear Water is proud to be centrally located in Williamsville and service all of Western New York.
Don't let existing water problems grow. Fill out the form below and start your journey to cleaner, healthier water.